IMPACT is focused on Primary Prevention.
We believe that violence is preventable. Through identifying what drives and contributes to violence, we can stop it before it begins. We focus our efforts far upstream of violent events to better understand and interrupt the patterns that eventually lead to sexual and domestic violence. In parallel, our members continue to provide expert intervention services when violence occurs.
We measure results and impact through the formula of influence + leverage +learning = impact.
In 2020, we obtained funding from Max Bell and the Government of Alberta to undertake development of our primary prevention framework. This framework will allow us to take our efforts to the next level.
To eradicate domestic and sexual violence in Alberta.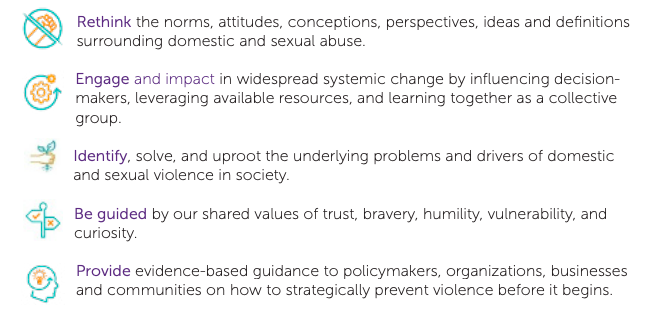 SHIFT: THE PROJECT TO END DOMESTIC VIOLENCE
IMPACT has partnered with Shift to develop the primary prevention framework. Shift conducts research that informs primary prevention practices, programs, policies and legislation. They have a long history in Alberta of partnering with other researchers and academics, policy-makers, community leaders, NGOs, community-based organizations and collectives to implement and evaluate effective primary prevention solutions. The primary prevention framework we are developing in collaboration with Shift, will be evidence-based, including best practice research and knowledge from around the world. 
To learn more, visit: preventdomesticviolence.ca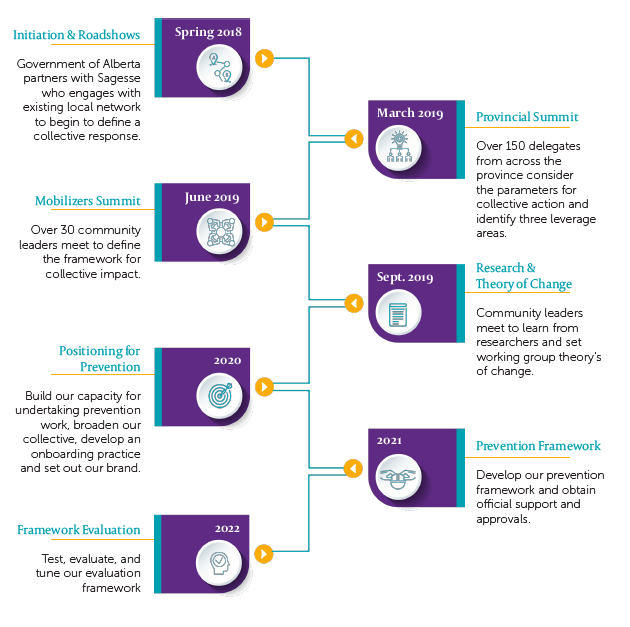 SPECIAL PROJECTS
IMPACT also takes part in 'ad hoc' activities and special projects. These initiatives are areas that the Mobilizers agreed are important to focus on, but they fall outside of the primary prevention framework. They are usually term-limited and have a clear end date or outcome. In 2020, we participated in the following special projects:
CLARE'S LAW
This project engages IMPACT in providing feedback into Clare's Law, Bill 17, The Domestic Violence Disclosure Scheme. This project is slated to provide comment in early 2021 with the launching of Clare's Law.
REMOTE THERAPEUTIC INTERVENTIONS
This project will build on existing research to create a resource for the sector around delivering virtual/online interventions with a focus on domestic and sexual violence specific considerations. This project will be completed by December 31, 2020.
EMERGENCY PLANNING
This project is in place to create a universal emergency plan that all General IMPACT members can access. The plan will support organizations to have most of an emergency plan in place, having to only customize 20% of the plan for their own use. This project will be completed by November 1, 2020. A big thank you to Darren Barber for his help in this work