The thing that truly sets IMPACT apart from other initiatives is that it is a collective impact. This means that we have created a framework to address complex social issues, and create deep, sustainable change. 
While both a 'collaborative' and a 'collective' share ideas and work together towards a common goal, a 'collective' focuses on high impact opportunities for change. This means that we want to find solutions for the entire population instead of just focusing on a solution that works for one individual.
Ours is a high-impact initiative that relies on a collective infrastructure, consisting of the input, values, research, and resources from its members, as well as the support of a backbone organization that stewards the collective vision, strategy, decision-making and distribution of funds. As agents of adaptability, we recognize that our structure, approach, and priorities may alter as we embrace new and emerging ideas, so long as our primary vision remains the same. We measure results and impact through the formula of influence + leverage + learning.
Over the past two years, IMPACT has not only created the structure of the initiative, but has also worked to ensure that the correct people are working at each level. 
Our structure looks like this: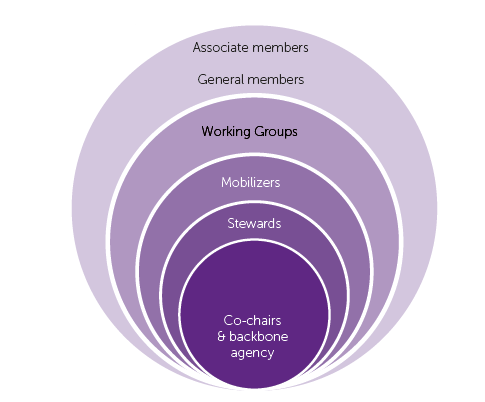 Our

co-chairs

are representatives from different parts of the sector who have committed resources to achieving the goals of the collective. Our

backbone agency,

Sagesse, provides resources as needed for the collective to operate.

Our Stewards and Mobilizers drive the work of the collective forward.

 

Stewards

are formal or informal leaders in Alberta with a deep understanding of the issues and who have stepped up to guide the direction of the collective.

 

Mobilizers

, who are leaders within their organizations, have stepped up to undertake the work of the collective through working groups and other initiatives.

 

Working Groups

are small groupings of IMPACT members with an interest and specialization in a specific area who work to develop solutions.
Finally, we have our

associate and general members

, which can include anyone who is actively working on domestic or sexual violence issues in Alberta.

 
Our members come from a wide variety of stakeholders across the province including front-line staff, researchers, decision-makers, and community members. This is key to ensuring that the work of the collective is grounded in the experience of staff across Alberta.